Archive for the 'Parks' Category
Our Glass Beaches … Where Mounds of Trash Turned to Treasure

—Posted Monday, March 26th, 2012 at 7:36 pm—
We talk about Glass Beach, singular, but there are actually three. Each operated as a trash dump for the city during a different time: Glass Beach 1 – 1906-1946, Glass Beach 2 – 1946-49, and Glass Beach 3 in the state park – 1949-1967.
Just a few blocks north of the Atrium is the sign for just plain Glass Beach (actually Glass Beach 3), which is now part of MacKerricher State Park. A few years ago, all the old cars, batteries and other items were removed. Only beautiful sea glass and pristine tide pools were left behind.
Guests often ask if there is any glass left? There is … plenty.  However, because so many people visit Glass Beach 3 and remove buckets of glass, it is no longer ankle-deep like it once was.
So, first off we want to encourage you to hunt glass until your heart's desire, but leave it behind for others to find. Actually, because it is considered a "cultural resource" by State Parks, it is against park regulations to remove it.
Just south, a couple of coves over from the State Park is Glass Beach 2. Because is hasn't been plundered and fewer people visit (mostly accessible during low tides or by climbing down a steep cliff), your can literally swim in sea glass.
What To Do: Search for rare ruby reds (from pre-1967 auto trail lights) or sapphire gems from apothecary bottles. Snap a photo, but leave the glass behind for others to discover. Instead, go see all the great glass treasures assembled by Capt. Cass Forington's Sea Glass Museum, on Highway 1, about a mile south of the Fort Bragg City Limits. Capt. Cass has created wonderful displays of sea glass and sells jewelry made mostly from discoveries he made at Glass Beach 1, which is accessible by kayak.
The Guest House Museum in downtown Fort Bragg is also working on a sea glass exhibit to capture this piece of Fort Bragg heritage.
What's Nearby: Virgin Creek Beach

—Posted Saturday, July 16th, 2011 at 6:26 pm—

Located at the north end of Main Street, the Atrium is walking distance to many attractions.
One of our favorites is Virgin Creek Beach. On big wave days, surfers love the ride along this big sandy beach, which is perfect for picnics, tidepooling or whatever you might like to do at the ocean's edge.
Located about a mile north of the inn, ride your bike there along the Haul Road or drive to a parking area along Highway 1, walk across a field and a couple of hundreds yards to the beach.
Keep an eye out for the endangered snowy plover which nests here (but, of course, keep your distance so you don't disturb them).
Virgin Creek Beach is part of MacKerricher State Park, but there are no day use fees.
MacKerricher State Park Visitor Center a Popular Destination

—Posted Friday, June 10th, 2011 at 3:25 am—
MacKerricher State Park is huge — stretching along sandy beaches and rocky shorelines from near Downtown Fort Bragg to more than five miles north.
You can ride horses on the beach or ride your bike on the Old Haul Road that once carried logging trucks from the forest to the mill (now closed). You'll find walking trails, a lake, wildlife viewing platforms (Laguna Point) and a visitor center.
We like the visitor center as a great place to get oriented: there's a gray whale skeleton out front that teaches about the annual whale migration from Alaska to Mexico. Inside is a natural history museum of local animals. There is also a gift shop and a ranger or friendly park aide willing to share their knowledge of the park and the adventures awaiting you. We'll help you get there.
MacKerricher's tide pool monitoring-4.23.11

—Posted Friday, March 25th, 2011 at 4:54 pm—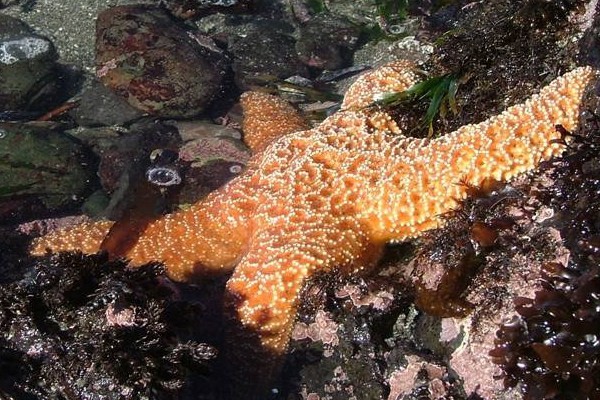 We love MacKerricher State Park, and you can actually walk there from the Atrium Bed and Breakfast!
The tide pools at MacKerrricher have been used as a living classroom for over 50 years and this valuable coastal resource was once thought impermeable to human influence.
They are training volunteers to educate the public about the tide pools at Laguna Point.  The goal is to get park visitors to take care of and respect the tide pools.  At good low tides, they will have a docent at the tide pools.
The goal of this program is to provide on-site education to the general public; inform visitors about the organisms, ecology and necessary protection of the valuable intertidal resources; and to increase awareness of the needed conservation of this ecosystem.
To get more information, call Fred Andrews, Park Interpreter, 707.961.0471 or call 707-961-0471; Visitor Center 707-964-8898; or contact MAPA: 707-937-4700, mapa@mendoparks.org